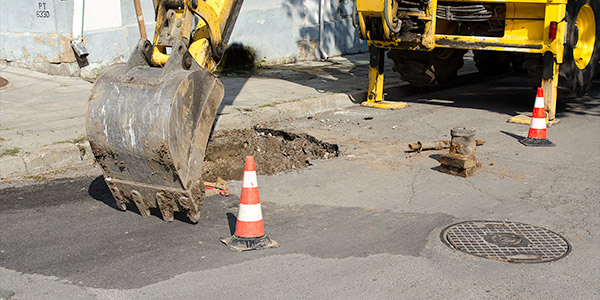 Digging in the City? Give wheeled excavators a try.
Historically, tracked excavators have been the earth movers of choice by contractors for any job that involved a significant amount of digging. They are powerful, stable and pack a lot of punch in terms of their ability to move earth. However, given their size, tracked excavators can sometimes be too big and bulky for certain jobs – especially excavation jobs in and around major urban areas like Philadelphia.
Enter the backhoe. Backhoes bring in some added mobility and versatility, which are both key attributes when operating in semi-confined areas. But backhoes can be limiting in terms of digging depth and lifting power when it comes to major excavation.
It is because of the shortcomings of these alternatives that wheeled excavators are quickly becoming the first choice for today's contractors when it comes to urban excavation. Relative to tracked excavators and backhoes, wheeled excavators can provide all of the benefits mentioned above in a single machine.
Here are a few things you should consider about wheeled excavators when deciding on a piece of rental equipment for your next excavation job in a city or urban environment:
Power & Versatility 
If the equipment gods were to bring together all of the best features of a tracked excavator and a backhoe, the end product would be today's wheeled excavator. With excellent reach for digging and power for lifting, they provide the best of both worlds. Add to that, the array of attachments available for wheeled excavators, and the result is a machine that is perfectly designed for today's complicated urban excavation needs.
Excellent Mobility
A wheeled excavator can perform the majority of the work that a tracked excavator can do, but with the added ability to move around a jobsite easily and efficiently. Depending on the distance between work areas, a tracked excavator may need to be loaded up and hauled. A wheeled excavator, on the other hand, can drive on most surfaces (paved roads, parking areas, building slabs, etc.) without damaging them or the equipment, itself – usually at speeds of up to three times faster (6 mph vs. 18 mph)!
Additionally, when working in urban or densely populated areas like Philadelphia, there can be somewhat stringent regulations regarding the transportation of heavy equipment. The mobility factor associated with wheeled excavators allows contractors and operators to get their work done while remaining compliant.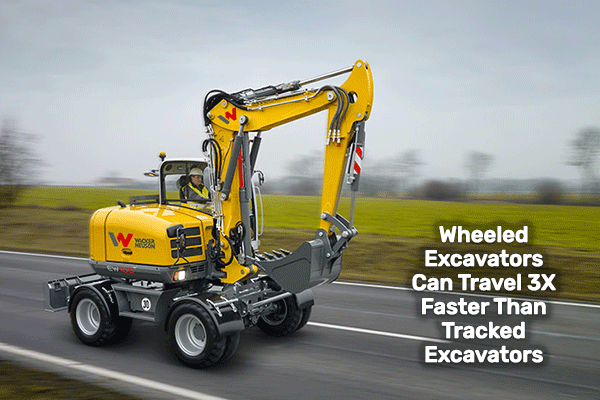 Smaller Footprint
From a size perspective, wheeled excavators tend to take up less space than tracked excavators. Their smaller footprint allows them to get into places their tracked counterparts cannot because of either a size restriction or a potential risk of surface damage. And features like four-wheel steering make maneuvering into tight areas much easier for operators.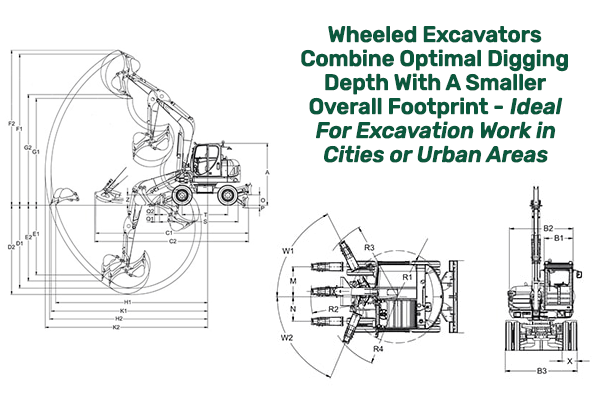 The Stability Issue Is Not An Issue
One of the most common misconceptions about wheeled excavators is that they are not as stable. While tracked excavators do have inherent advantages due to the width of their tracks and overall lower center of gravity, manufacturers of wheeled excavators have taken great steps to close the gap between the two options. In fact, with outriggers properly deployed and the dozer blade down, many of today's wheeled excavator models have shown to be just as stable as tracked excavators.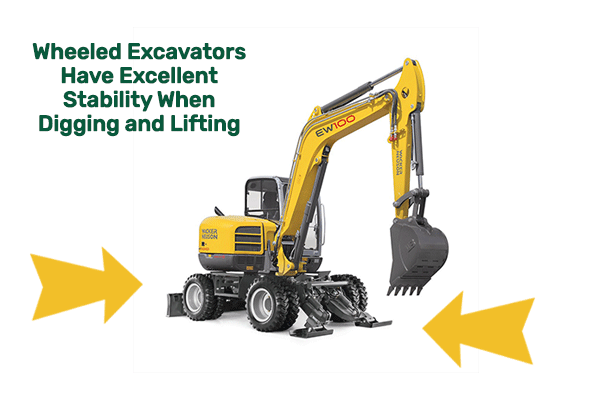 If you thought tracked excavators and backhoes were your only options, it might be time to consider the alternatives. Wheeled excavators are growing in popularity, especially in major urban areas in the U.S. like Philadelphia. If you've got a job coming up and you're not sure what the right equipment for urban excavation is, give Diamond Tool Equipment Rentals a call today. Our equipment rental and sales team will be happy to help!
Contact our experienced rentals and sales team  – either by phone 888-879-3426  or email – and let us help you get the right excavator for your next job.