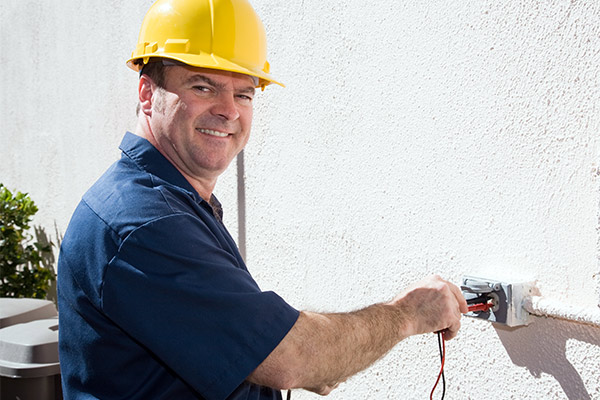 As an electrician, you need the right equipment for every job, every day. But every job and every day can vary a lot, and that means your tool and equipment needs are changing all the time. In any given week you might need a trencher, a scissor lift, a couple of generators, or multiple light towers. Or you might not.
One thing's for sure: no electrician needs the headache of buying, maintaining, and storing equipment that doesn't get used. Even the equipment you need every day costs man-hours and money to transport, repair, and upgrade. So it's no surprise that more and more pros at both large and small electrical contractors are turning to trusted partners who specialize in rental equipment for electricians to stay competitive and profitable.
If you're not taking advantage of rental equipment, you should be. But the biggest reason isn't just what you get when you rent– it's also what you DON'T get:

NO OVERHEAD
Using rental equipment reduces or completely eliminates some big recurring costs compared to permanently owning. Square footage for storing all that gear between jobs isn't cheap. The extra trucks, trailers, and fuel needed for hauling large equipment pieces to and from jobsites add up, too. Equipment rentals may also be treated as operating expenses, not capital expenditures. That can be a big advantage for billing and at tax time.
NO HASSLES
The tools and equipment you count on as an electrician require frequent inspection and upkeep to do the jobs you need. You can eliminate a lot of the time and effort spent on that by renting. Relying on generator rentals, for example, instead of purchasing multiple units, mean that you and your employees don't have to worry about changing oil, replacing filters, or performing other maintenance. A good rental partner will take care of it all for you.
NO REGRETS
A major equipment purchase can leave you worrying if buying was really such a good idea. Will the price drop in a few months? Will next year's model be better? What if the one you chose isn't the right tool for future projects? A lift or wire puller rental can save you the worry of committing to a 5-figure purchase that you might regret later. And with the expert advice you get from a partner like Diamond Tool, you can be sure you're picking the right model for the job, every time.
NO LIMITS
If your business is growing fast, or if a big opportunity comes along while your resources are already committed to other projects, what can you do? You can take any job and do it right. Scaling up is easy when you have a partner you can count on for electrical rental equipment. You can even get it delivered right to the new jobsite.
Whether it's a single wire puller rental for a day or a month-long diesel generator rental, rental equipment opens up a whole new level of potential for electricians. If your business isn't making smart use of rental tools and equipment, you could be spending money and time you don't have to. If you already rely on rentals, make sure you're renting from a real partner who specializes in rental equipment for electricians, and who cares about your projects and your success. The team at Diamond Tool Equipment Rentals is ready to be Your Go-To Guys, getting you what you need, where you need it, when you need it.
Get to know the full line of rental equipment today at Diamond Tool. Questions? Our equipment rental and sales team will be happy to help!
Contact our experienced team  – either by phone 888-879-3426  or email – that specializes in rental equipment for electricians. We can  help you get the right equipment for your next job.