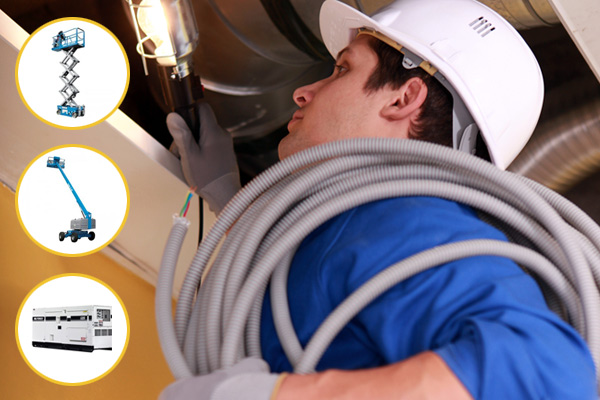 Savvy contractors know that different jobs require different tools. It isn't practical for any contractor to own every tool they could possibly need, which is why tool rental companies are so essential to a growing business. This entry in our pro series is going to look at some of our favorite electrical equipment rentals for electrical contractors, specifically lifts and generators. We'll be looking at the range of lifts and generators available, how they can help you take on and easily finish new types of jobs, and how opting for rentals from a reliable rental company is a smart and cost-effective move for your contracting business.
Lift Your Business to New Heights with Both Boom and Scissor Lift Rentals
You've probably had a lot of job sites that require work above the floor or ground level. Ladders and scaffolding may be cheap, but they are limited in reach, are less safe, and don't have the versatility and mobility that lifts provide. There are manual push lifts that require you to move them around yourself and self-propelled models of lifts with a variety of strengths based on the job you have. Manual options are cheaper, but obviously slower and less safe. Having to go up and down every time you need to move the lift takes more time, and creates more opportunity for mistakes.
Scissor Lift Rentals
Scissor lift rentals
, on the other hand, are likely going to be your best bet for many jobs. They provide a large, stable, safe work area that can get you anywhere from 20-50 feet up to the work that needs to be done. Scissor lifts are great because they often provide enough space for multiple people, which isn't true of every type of lift out there. If you are doing indoor work that takes many hands, this is a great option. They also have a smaller wheelbase than other types of lifts, allowing them to fit into cramped work spaces, which again may help you for indoor jobs like overhead wiring, elevated lighting in large spaces like auditoriums, and more. Scissor lift rentals are also going to generally be less expensive than other lift types, so they'll usually be easier on your budget.
Boom Lift Rentals
Let's say, though, you need to go up higher, or have to angle around obstacles like pipes. If you find that to be the case, then boom lift rentals are going to be a valuable option. Boom lifts come in two varieties—articulated lifts that have bendable arms that move their bucket around obstacles, and telescopic lifts that feature straight arms but which have higher weight limits. The increased reach and mobility of boom lifts is traded off for a smaller work space, so you'll need to plan out which is best for you.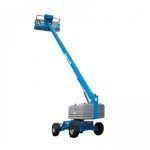 Also, both scissor and boom lifts come in gas or electric models. Electric models are great for indoor work, as they are quieter and don't have any emissions. The gas versions are often ideal for outdoor work, and are well suited to construction sites. They are often outfitted with tools that help them navigate terrain, and are usually rated for heavier loads.
If you're deciding between scissor lift rentals or boom lift rentals, ask an expert! Partnering with a knowledgeable, engaged rental company is important in supporting you as you plan your jobs and forecast your equipment needs.
Always Have Enough Power with a Commercial Generator Rental
More and more of your tools are powered to make you faster, safer, and better at your job, but as an electrician, most of your job sites will either not yet have power, or power will be lost or turned off as you work. That's why some of the most common electrical equipment rentals are generators. Generators come in a wide variety of sizes and types, and it's important to figure out which will best suit your needs as you are planning out your job.
When you're planning to use a commercial generator rental, you'll first want to determine how much power your job requires. This will decide if you need a small 2000-watt handheld generator for small on-site equipment, or if you'll be taking on a job that needs a 110-kilowatt diesel generator to power multiple, energy-intensive pieces of equipment.
Determine Your Power Needs
First, determine what systems you'll need powered. Do you need to power handheld equipment upon a scissor lift? Do you need a generator to supply your whole job site before the local power is set up? If you don't get a big enough generator, you'll lose time and money to delays. If you overshoot your needs, you're going to overpay for energy you didn't use. You can determine this by identifying the equipment that requires power, and totaling the power needs of all of the equipment at peak capacity. That level of planning can get tedious and tricky, so talking to an expert in electrical equipment rentals can help. "Measure twice and rent once" is a good motto to go by here. Ask the professionals where you get your commercial generator rental for advice, as it can make all the difference when you are on the job.
Follow Safety Procedures
Be sure to take note of safety procedures for your commercial generator rental. Different units have different needs. Some units need space for ventilation and may build up carbon monoxide if not properly vented. Other units may get hot when running. It may be obvious to worry about safety concerns when you are 50 feet in the air on a scissor lift, but your generator should get just as much respect from you when it is being operated. Be sure to review operating instructions, and if possible have a trained technician walk you through best practices before you take a brand new unit out to your site. A good rental partner is one that will have this kind of expertise, and will take the time to train you and your staff on safe machine use. If you ask for this and they can't help you, it's time to find a new tool rental service.
As an electrical contractor, you probably already have a portable generator of some kind, but it's always a smart idea to know where to find a reliable commercial generator rental for when you will need to either back up what you have or bring more power to your job site.
Build Your Business with the Help of Electrical Equipment Rentals
Taking on bigger and more specialized jobs means you'll need more power and potentially more equipment. Investing in and maintaining that equipment can be both a big commitment, and a big economic risk. Electrical equipment rentals allow you to keep your overhead low as your business grows. When you are looking for generator, boom lift, or scissor lift rentals, you want the newest, safest lift to get your team where they need to go. Capable rental companies keep newer model equipment and keep it well maintained, allowing you the peace of mind to focus on other parts of your business. Diamond Tool has all of the equipment you'll need, and a team who can help you leverage those tools into growth for your company. Browse our rental inventory to start planning your next job, and be sure to talk to one of our trained specialists to help you best leverage that equipment for your next big project.