If you're an electrician who runs your own business, you know that this industry is very project focused. Your equipment needs will change from job to job, and that means that some specialized items may go largely unused. Buying those items is usually going to be cost prohibitive for this reason. Why go with a very expensive long-term solution to a short-term need? Does your contractor business need its own aerial platform? How often would you actually use a trencher? And if you have them, is it worth the cost of storage, maintenance, and repairs if you do only use them on every tenth job?
It's easy to see why electrical rental equipment is so popular, and why certain equipment, like a wire puller rental is an important topic to talk about with your equipment rental companies. New model wire pullers have a 5 to 12 thousand dollar price tag before you get to the costs of continued ownership (maintenance, etc.), but they can also be important tools for setting up your business for growth and success. Using a wire puller like the iTOOLco Cannon 12K can cut your pull time dramatically and be much easier on your crew for setup and breakdown. Your people can work faster and better, when they have the right tool.
So what do you want to look for when renting a wire puller? Equipment rental companies have many different options, but we're going to focus on three models from iTOOLco, their 6K, 10K and 12K wire pullers, to look at the details that'll matter to you when you start looking for a wire puller rental.
Before the Work Starts – Easy to Move
A tool can be extremely powerful but still be a massive pain if it's hard to use and transport. When looking for your wire puller, you'll want one that is easy to move around your job site and easy to move from one site to the next. The models we're focusing on are self-contained, and everything you need for most jobs is physically attached to the unit. No need to lug around a gang box and pull out your attachments. You'll also want a unit that is collapsible so that it's easy to fit into a truck or trailer for transportation.
On the Job – Safety
Safety is always a primary concern when you're looking at any equipment, not just for a wire puller rental. You can always talk to the specialists at the equipment rental companies that you work with for safe use of the wire puller you are using, but there are also a few physical aspects you'll want to look for to keep your crew safe on the job.
A collapsible unit isn't just great because it's easy to transport, it's also safer to move through a crowded or interior work site. You have less of a chance to hit and damage anything on site, including your crew members! You'll also want a wire puller that allows the user to stand to the side of the puller, not the back. If your rope snaps, you don't want to be standing where all of that force is going! You'll also want to look for models that can be bolted to the floor when needed, or models that have other means of keeping your wire puller in place.
For times when you're on asphalt or just can't bolt your puller to the ground models like the Cannon 12K, are able to anchor to the hitch of your truck, making your pull easy and safe.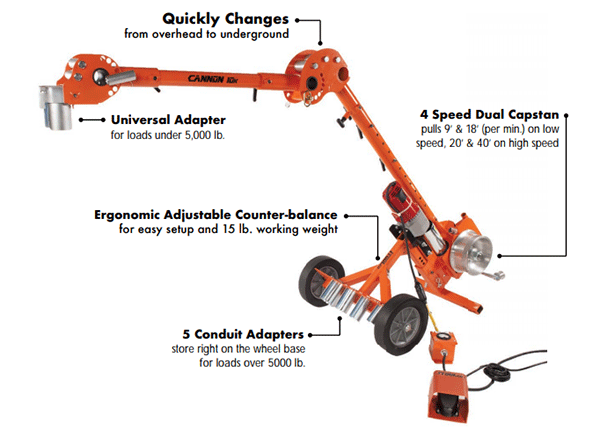 The Job Itself – Speed and Utility
The major benefit of a good wire puller is speed. The Cannon series' design has a number of key points where just by removing a simple cinch pin you can adjust and articulate the frame to fit into some shockingly cramped areas that your conduit may be situated in, allowing for setup to be quick and hassle-free.
Then there is the pull itself. When you're looking through electrical rental equipment for a wire puller, be sure to look for one that has a capstan on each side. Each side has a specialized function that will speed up your pull time! Start your pull on the high-speed side for the first 400 feet or so while the pull weight is still light. Then, as your pull gets heavier, just move your rope over to the heavy-duty side and continue on. Old pullers will pull six feet of line per minute, while some of the newer model wire pullers, including the Cannon 12K Model, can pull up to 36 feet per minute, and has an overall pulling capacity of 12,000 lbs!
You'll also want to look for a puller than can easily adjust to the shape of your job. A puller with a universal adapter at the head will let you connect to more conduits without having to fiddle with a bunch of attachment heads, which again speeds up the job. You'll also want a puller that can adjust angles. The Cannon wire pullers have a head that can be rotated in 90 degree increments so that you can set it up to pull from the side if your job requires you to do so.
The Bottom Line
Keeping your costs low while growing your business isn't easy, but it's important. No one knows better than you what equipment you'll need on all of your jobs and what equipment you'll only need from time to time. For those times when electrical rental equipment is the way to go, be sure that the equipment rental companies you work with have models that are easy and safe to use, and have the speed and utility to get your job done well. Diamond tool has been doing exactly that for over 40 years. Diamond Tool carries the iTOOLco Cannon series as well as other equipment to make your job a lot easier, and your business more profitable.
Get to know the full line of electrical and mechanical rental equipment today at Diamond Tool. Questions? Our equipment rental and sales team will be happy to help!
Contact our experienced team  – either by phone 888-879-3426  or email – that specializes in rental equipment for electricians. We can  help you get the right equipment for your next job.