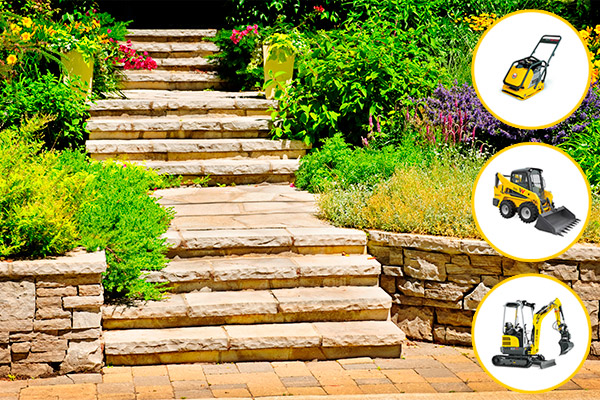 Owning your own small or medium sized landscaping business can be gratifying, but it can also be hard to grow into a larger, more profitable operation. There are a huge variety of jobs and each can take task-specific tools, which can be expensive to own and maintain. Focusing your business on specific areas of work may make you an expert, but you could be passing up the chance to grow to a more profitable level. If you're looking to take your business in a new direction that will help you stand out from your competitors, adding hardscaping services is worth considering. Offering both softscaping and hardscaping services makes you a one stop shop for clients with complex landscape plans. By adding walkways, patios, retaining walls, and even small garden pools to your list of services, you'll add a major source of revenue. And you can do so with lower risk and lower costs by choosing to partner with a rental equipment company.
Hardscaping is a growing and profitable area, but it requires specific hardscaping equipment to get the job done. That's why working with a capable rental equipment company is crucial to growing this portion of your business. After all, it's a lot cheaper to rent a skid steer than to buy one.
Let's take a look at some of the work you can start taking on with hardscaping equipment rentals:
Plate Compactor Rentals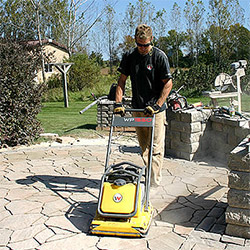 As you design yard and gardenscapes for your customers, the ability to add walkways and patios will let you grow the scope of projects you can take on. For this reason, working with pavers using plate compactor rentals is a great idea. Rather than having your crew spend hours with hand tampers on gravel and sand sub bases, a plate compactor will get that sub base done in a fraction of the time. There are different models sized for specific jobs, allowing for specialized work to be done. So when you're looking at plate compactor rentals, keep the specifics of your job site in mind. If you're putting in a small walkway, a 15" model will allow you to work in small spaces cleanly and efficiently. For larger jobs, a 24" model will cover large areas much faster. With a different size tool for each job, it's easy to see why plate compactor rentals are a great way to test the waters in a number of different ways before you might decide to purchase this expensive equipment for yourself.
Skid Steer Rentals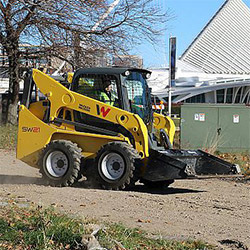 For projects that involve moving heavy material, you might need to rent a skid steer. Depending on the job, you may also need several attachments. Luckily, you can rent a skid steer with as little or as many attachments as you need to get the job done. You can get breaker attachments to take up old patios, then move the old concrete with a bucket attachment. Or quickly produce post holes for fences with an augur attachment, then move those posts by loading them safely into a grapple bucket. As you can imagine, owning all of these attachments can be a big-ticket investment for your small business. If you're thinking about adding hardscaping to your business offerings, it might make sense to rent these attachments as needed, not to mention the skid steer itself. A skid steer can be the gateway to bigger, more profitable jobs, but it's an expensive purchase.  Renting one means you don't need to commit to a big investment to get there.
Excavator Rentals
When it's time to dig into excavating, you'll find there's a range of hardscaping equipment. For trench work, you can leave your shovels at home and use a hydrostatic trencher or a mini excavator. These compact workhorses will help you make straight, clean lines in any type of soil you might encounter throughout the state of Pennsylvania (loose, sandy soil vs. high clay/high shale, etc.)
When your jobs get bigger than just trenches, so does the equipment. Backhoes and excavators will help you clear large lots, prepare spaces for larger decorative water features, plant large trees with auger attachments, and more. If this isn't your area of expertise yet, don't be intimidated. You can sign up for trenching and excavations training.
Grow With the Right Partner
As a landscaper, your job isn't just to grow someone's yard or garden, it's also to grow your business. Having a helpful, capable rental equipment company on your side will help take the guesswork out of equation. That means a staff you can trust for advice and guidance, and equipment you know is well maintained and ready for action. Diamond Tool keeps new-model equipment prepped and at-the-ready, so as jobs come up, the specialized hardscaping equipment you need will be nothing to stress over. You also don't need to worry about hauling specialized equipment around — Diamond Tool offers free delivery to your job site. Whether you're looking for plate compactor rentals or you want to rent a skid steer and aren't sure of what attachments you need, the staff at Diamond Tool are here to help.
*******************************************
Get to know the full line of rental equipment today at Diamond Tool. Questions? Our equipment rental and sales team will be happy to help!
Contact our experienced sales team  – either by phone 888-879-3426  or email – and let us help you get the right landscaping equipment rentals for your next job.